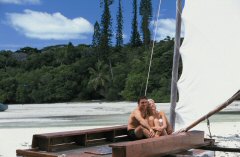 Bienvenue - Welcome to New Caledonia! An unique blend of French and Melanesian cultures right on your doorstep, surrounded by the world's largest coral lagoon.
In 1774 Captain Cook discovered New Caledonia - now it's your turn! A slice of France in the South Pacific, yet New Caledonia is only 2 ½ hours from Auckland.
Your French experience begins in Noumea, the sophisticated capital of New Caledonia, with its French influence and cuisine. Contrast this with Isle of Pines, where you can spend your day snorkeling in the crystal clear lagoons. Getting to New Caledonia is easy, the hardest part is leaving.