Hawkes Bay Wedding Country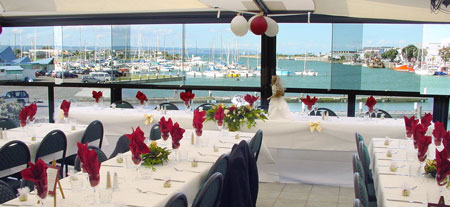 The Bluewater Hotel has spectacular views over Ahuriris inner harbour and is ideal for any event. We can cater for a small or large wedding, the Bluewater and their friendly staff will cater for your every need.
Everything is under the one roof. Private rooms provide the latest technology to cater for small or large events in a serene environment and the restaurant can provide everything from stag do's to the big event, we can organise everything from, entertainment to flowers the works.
In addition, the Bluewater Hotel has modern studio units and 2 bedroom apartments as well as larger rooms to cater for your whole wedding party. For that special occasion, there is a selection of limousines including the 15 seater Hummer and a 10 seater Lincoln, you could even get married on our amazing launch.
The Bluewater has one of the best views in the bay over looking the inner Harbour of Ahuriri
What we have to offer
Water views
Experienced Hospitality professionals
Extensive Menu options
Full Bar service – extensive wine selection
Entertainment options
Table/Room Decorations
Transport options – stretch Limousine or Hummer service
Hotel Accommodation
On Water Accommodation on our Launch
Weddings on our Launch