With all of the the waste and disposable items in this world, wouldn't it be nice to have a wedding gift which is guaranteed to last for three generations and is made to be handed down. That is precisely what Joe Carter and Kate Slavin, founders of Ironclad Pan Co., set out to create. We chatted with them about their beautiful New Zealand made cast iron pans.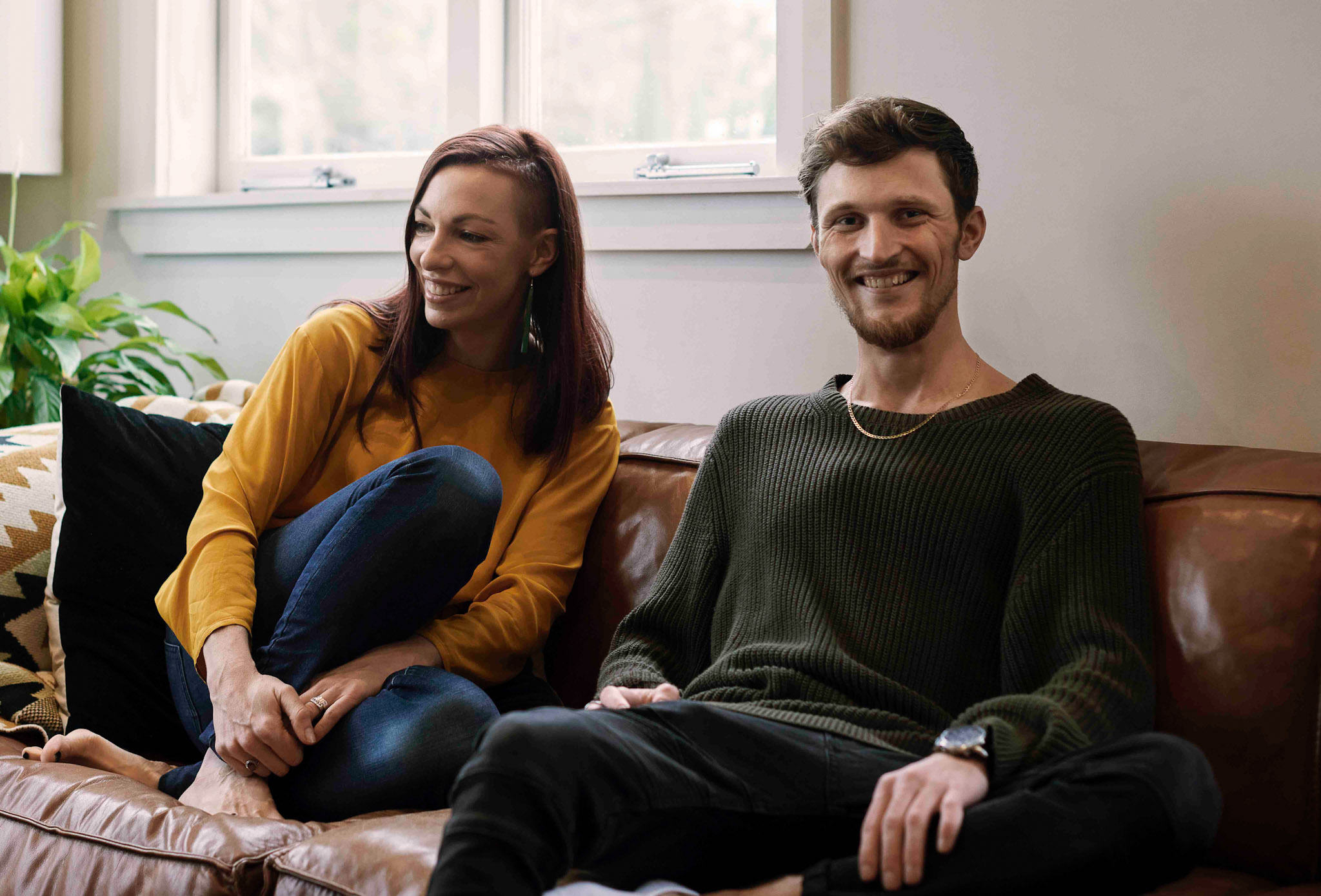 So, tell us a little about yourselves. What made you start Ironclad?
We founded Ironclad in 2019. In an era of disposable, low-quality products, we wanted to create a meaningful object that people only had to buy once. Something precious. Something that could be handed down for generations. After a few years of part-time, but exhaustive research and brainstorming exactly what that product should be, we landed on a cast iron skillet. We found that it simply wasn't possible to buy a New Zealand made cast iron skillet. And all of the imported versions were machine-made, often pre-treated with dyes and chemicals, or enamel coated. Both of us have beautiful childhood memories around food, family and coming together at meal times. We have used that to inspire our range of Ironclad Cookware.
We launched with the Ironclad Legacy Pan - a mid-size family pan (280mm diameter) - and recently unveiled its slightly smaller, but way cuter sibling, the Lil' Legacy (200mm). We have also just released an Ironclad Pan Snug, a leather handle sleeve to protect hands from hot handles, our Grandma's Hands oven gloves in denim or cotton drill, and stylish kitchen-proof aprons for kids and adults (The Master and The Apprentice). On top of that, we are close to finishing the design on an exciting new piece of Ironclad Cookware, which will be available in early 2021. It is a bit different to the pans we have crafted so far, so watch this space!
What makes your cast iron pan different from others on the market?
The Ironclad Pan is the original and only New Zealand made cast iron skillet. Each pan is skilfully hand-poured, hand-fettled and hand-finished to order in our Auckland foundry. Only the highest-grade recycled T100 iron is used to craft the beautifully unique design. We are so proud of their quality that we offer a trademarked Three Generation Guarantee – the longest of any New Zealand cookware brand. That 100-year promise is cast in iron on the base of every pan. It is also the only cast iron cookware we know of that comes unseasoned. We put the seasoning process in your hands, so you can season it to your family's taste, and so that you know exactly what goes into it. In the box, customers also receive some gorgeous grapeseed oil - Uncle Joe's from Marlborough - and use and care instructions to make sure each family heirloom lasts for generations to come.
What are the benefits of cast iron pans versus other style pans on the market?
There are so many benefits to cooking with cast iron. Unlike any other cookware, cast iron improves with age. With each use, the cooking surface becomes smoother, allowing oil to seep into the surface and continually improve the seasoning (or as some like to call it, the patina).
They are naturally non-stick when they are seasoned properly, but without the chemicals that can be found in some other types of non-stick cookware – which is obviously a bonus both for your own health and for the environment.
The iron also helps them hold heat longer than most other pans. This works well, whether you're searing a steak at a high temp, or simmering a stew on low. If you don't have the most reliable stove, a cast iron skillet can help prevent you from accidentally burning dinner, which is always a win!
I'm not great with holding on to receipts. How will my children or grandchildren know about and be able to use the guarantee?
A hand-signed scroll is included with every Ironclad Pan, which outlines Ironclad Co's commitment to replace your Ironclad Legacy Cookware for three generations, or 100 years, from the date of purchase. However, if you (or your great-grandchildren) do lose the contract, simply check the underside of the pan. We're so confident in the quality of every piece of Ironclad Legacy Cookware that we have cast the details of the three generation guarantee in iron on the base.
Tell us a little more about the Recipe Vault.
If your homes are anything like ours, you'll have scraps of paper lying around with precious family recipes scribbled down, hardly legible, and on their last legs. To help collect and protect these precious family recipes, anyone can access their unique online Family Recipe Vault. There is no obligation to use it, but it's a handy way to share meals, recipes, and tips with your existing family, and the ones to come. Once you have set up your Family Recipe Vault, we will safely store your stories, videos, photos, cooking tips, and secret family recipes for the next generation. Soon, you'll even be able to publish your own family cookbook directly from your Family Recipe Vault! It's a great way for everyone in your family to collate and archive your entire culinary history for future generations.
Are we able to see other people's recipes or can you only see your own?
All recipes stored are only made available to the people you choose to share them with. Any recipe you upload will be safely locked away unless you choose to make it public, or invite friends or family to access your Family Recipe Vault.
Where can you buy this amazing pan?
The Ironclad Co. cookware and kitchen accessories can be purchased most sustainably from our website at ironcladpan.com. They're also available to buy from a handful of carefully chosen partners, including Sabato, Milly's, Chef's Complements, Homeland and Good From Scratch.