With a background of having created some amazing hospitality spaces after the Christchurch earthquake and after a stint over in Australia, Sam Heaps has settled in Auckland, launching his latest venture Mrs Sippy. We sat down with him and chatted about Mrs Sippy.
First of all, what is Mrs Sippy?
Mrs Sippy is an iconic 400cc Piaggio Ape (pronounced "Ah-Pay" meaning Busy Bee), which I imported from Italy and had customised in New Zealand to run as a mobile bar. It can serve four different drinks at the same time – from Espresso Martinis to craft beer – pumping out 500+ pours per hour.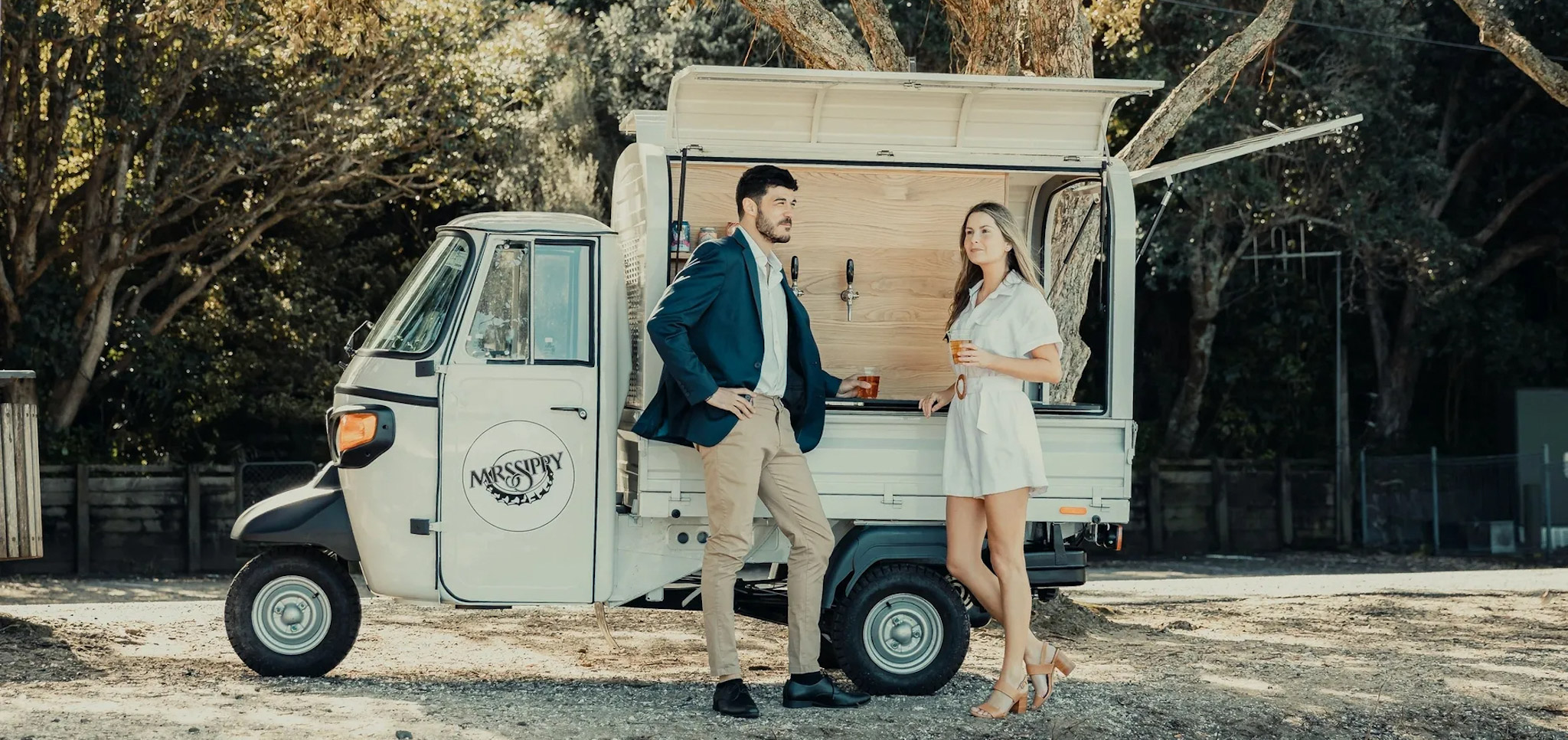 What gave you the idea for Mrs Sippy?
I've always loved Piaggios. I've seen them used overseas - they are so mobile, compact and quirky. Working in Sydney, doing some event management, I ended up runnin a bunch of events at the International Convention Centre in Sydney. I saw how large the venue was and how they had to set up bars around the place and I thought the Piaggio would be perfect for those spaces.
The brilliant thing about the Piaggio is its versatility of being able to be both indoors or outdoors. We can use the Piaggio in a conference centre or we can set up a bar in the middle of a field. We can go anywhere.
It sounds perfect for weddings and engagement parties?
It sure is. Couples these days are looking for ways to have a unique event while keeping costs to a minimum and Mrs Sippy is perfect for that.
Do couples run it themselves, or does it come with staff?
We are really flexible with how it is used. We can supply staff to look after it or it can be self managed. We recently used it for an engagement party and, as it was a smaller, more intimate event, we supplied the Piaggio, made sure it was all set up, and left them to it. Whereas for corporate events, we normally supply staff as they want the whole thing to be completely managed from end to end. The beauty of it is that we can do whatever the client wants.
Are the drinks chilled?
Yes, it has a 1400-Watt Glycol system to keep the drinks pouring fresh and icy cold.
What is the story with licences for serving alcohol?
Provided you are on private property, the big demarcation for licences is whether you are selling the alcohol to the public. If it is for a wedding or engagement party on private property, there are generally no licencing requirements. However, for events where the public may be involved, we can apply for a special licence for that event. We also have a catering licence.
What costs are involved?
The standard price is $699+GST for six hours for the hire of the Piaggio and that covers most events. That includes delivery, set up and a bartender. The beverages are additional to that and the client can supply them themselves if they want. Otherwise, we can organise stock, utilising the excellent trade prices that we can get from our suppliers.
The beauty of the Piaggio is that a couple can find a spot for their function, whether it be a friend's lovely house or a piece of land with a stunning view, and they can use Mrs Sippy to fulfil their beverage needs. Add in a food truck or two and you have an amazing event which can cost thousands less than using a full-service venue.
Whereabouts is Mrs Sippy available?
At the moment, we are in Auckland, although we are planning to also have Mrs Sippys in Wellington, Christchurch and Queenstown.
Mrs Sippy can be booked through the website at goodoilevents.com/contact-us or by emailing This email address is being protected from spambots. You need JavaScript enabled to view it..